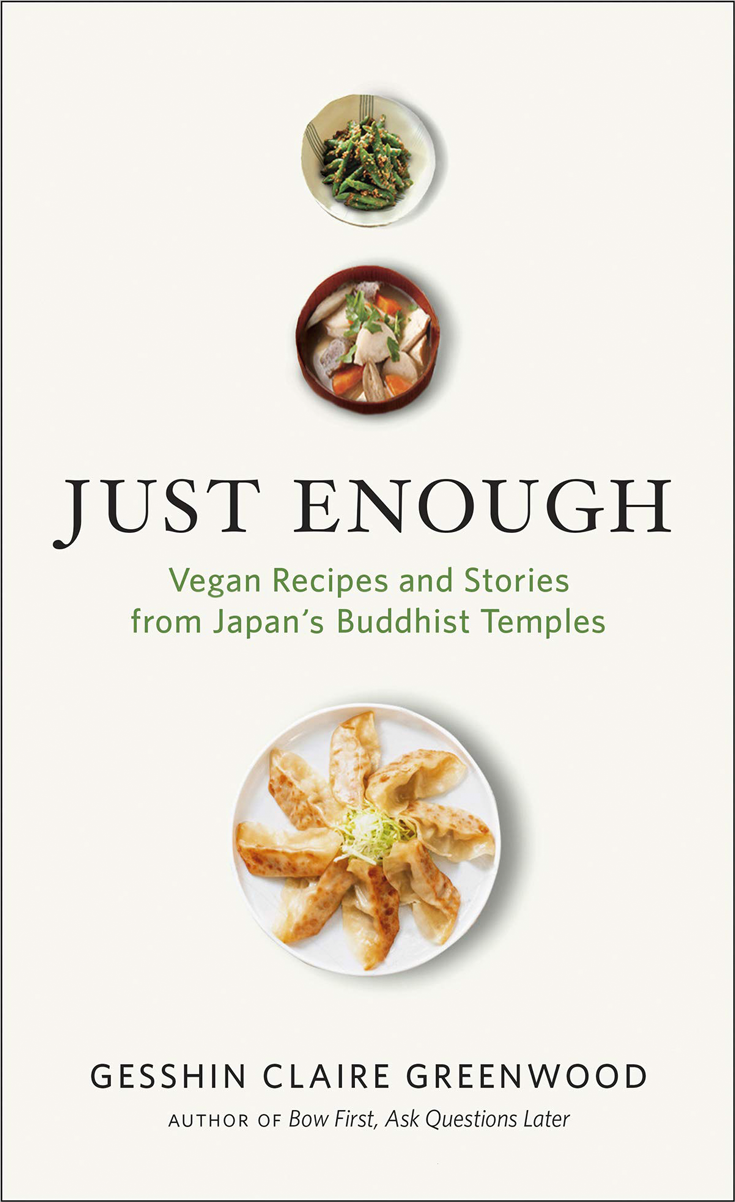 Just Enough: Vegan Recipes and Stories from Japan's Buddhist Temples
By Gesshin Claire Greenwood
New World Library 2019; 232 pp., $17.95 (paper)
Oryoki, which means "just enough," is a meditative form of serving and eating meals that's practiced in Zen Buddhism. Highly ritualized, it involves each diner using their own set of nested bowls, with just a small amount of tasty food in each. For most lay practitioners, it isn't feasible to practice oryoki in daily life, but according to Gesshin Claire Greenwood, if we adopt the spirit of oryoki, we can be fulfilled by less, and she isn't simply speaking about food. Instead of constantly craving more food—or more money, more recognition, more love—we can plate our life differently and find satisfaction in what we already have. Just Enough is Greenwood's memoir of learning to cook while living as a nun in a Zen monastery in Japan. It's also a cookbook with recipes for such delicacies as daikon "steak," dumplings, and tofu and walnut-stuffed mushrooms.
THANK YOU FOR READING LION'S ROAR. CAN WE ASK FOR YOUR HELP?
At Lion's Roar, our mission is to communicate Buddhist wisdom in today's world. The connections we share with you — our readers — are what drive us to fulfill this mission.

Today, we're asking you to make a further connection with Lion's Roar. Can you help us with a donation today?
As an independent nonprofit committed to sharing Buddhist wisdom in all its diversity and breadth, Lion's Roar depends on the support of readers like you. If you have felt the benefit of Buddhist practice and wisdom in your own life, please support our work so that many others can benefit, too.

Please donate today — your support makes all the difference.

Lion's Roar is a registered charity in the US and Canada. All US & Canadian donations are tax deductible to the full extent allowed by law.