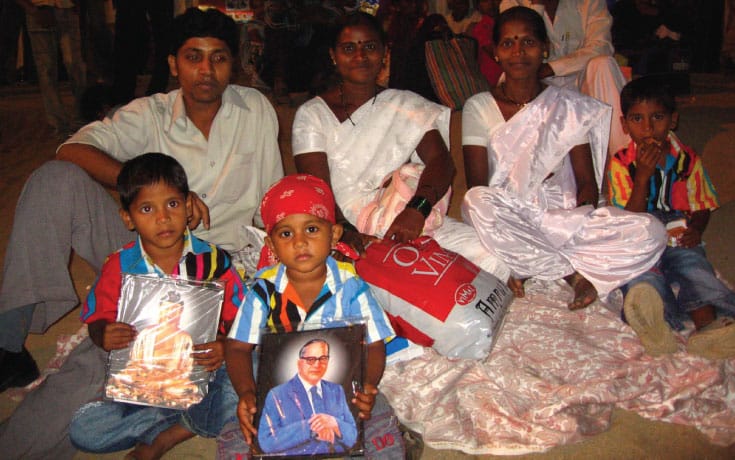 A Dalit Buddhist family in Maharashtra. Photo by
Ben Piven
.
The Buddhist revival in India ignited by Dr. B.R. Ambedkar more than fifty years ago has brought millions of the country's most impoverished and marginalized people to the Buddhist path. There is much we can learn from them, says Alan Senauke.
With justice on our side, I do not see how we can lose our battle. The battle to me is a matter of joy… For ours is a battle not for wealth or for power. It is a battle for freedom. It is a battle for the reclamation of the human personality.

— Dr. B.R. Ambedkar, All-India Depressed Classes Conference, 1942
Hidden in plain sight, a modern Buddhist revolution is gaining ground in the homeland of Shakyamuni. It's being led by Indian Buddhists from the untouchable castes, the poorest of the poor, who go by various names: neo-Buddhists, Dalit Buddhists, Navayanists, Ambedkarites. But like so much in their lives, these names carry a subtle odor of condescension that suggests their kind of Buddhism is something less than the real thing.
India's untouchables are relegated to the lowest jobs, and live in constant fear of being publicly humiliated, paraded naked, beaten, and raped with impunity by upper-caste Hindus seeking to keep them in their place. Merely walking through an upper-caste neighborhood is a life-threatening offence.
Human rights abuses against these people, known as Dalits, are legion. A random sampling of headlines in mainstream Indian newspapers tells their story: "Dalit boy beaten to death for plucking flowers;" "Dalit tortured by cops for three days;" "Dalit 'witch' paraded naked in Bihar;" "Dalit killed in lock-up at Kurnool;" "7 Dalits burnt alive in caste clash;" "5 Dalits lynched in Haryana;" "Dalit woman gang-raped, paraded naked;" "Police egged on mob to lynch Dalits."
 The New Buddhist Movement and TBMSG
The death of Ambedkar, or Babasaheb, as his devotees call him, left the nascent Dalit spiritual and political movement without unified leadership. It was not surprising to see the rapid rise of factionalism, given the entrenched system of graded inequality. No one else on the scene had the intellect and strength of character with which to unify the many outcast communities.
Liberty, Equality, Fraternity
In 1991, when I came to work at Buddhist Peace Fellowship in Berkeley, engaged Buddhism was outside the mainstream. Twenty years later, countless centers and groups are involved in prison work, chaplaincy, feeding the poor, and organizing against war. We have come to see this as a responsibility that flows from the bodhisattva vow to save all beings. But from the start, Ambedkar's Buddhism incorporated a vision of a compassionate society and social liberation, far beyond the introspective caricature that some have of Buddhism. So it is natural that an Indian Buddhist movement, rooted in the most-oppressed segment of society, would see the oneness of personal development and social transformation.
Can you help us at a critical time?

COVID-19 has brought tremendous suffering, uncertainty, fear, and strain to the world.
Our sincere wish is that these Buddhist teachings, guided practices, and stories can be a balm in these difficult times. Over the past month, over 400,000 readers like you have visited our site, reading almost a million pages and streaming over 120,000 hours of video teachings. We want to provide even more Buddhist wisdom but our resources are strained. Can you help us?
No one is free from the pandemic's impact, including Lion's Roar. We rely significantly on advertising and newsstand sales to support our work — both of which have dropped precipitously this year. Can you lend your support to Lion's Roar at this critical time?