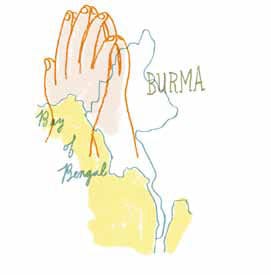 In this message to Buddhadharma's readers, Jack Kornfield talks about the response of Western Buddhist leaders to the ethnic violence incited by Burmese monks and abbots.
It is an amazing time of positive transformation in Burma, now called Myanmar, from a severe and crippling military dictatorship to some real movement toward freedom and democracy. After seventeen years, Aung San Suu Kyi is out of house arrest, carrying a spirit of metta and dignity that is breathtaking. And President Obama recently visited Burma and gave a strong, wise, and encouraging speech. It's heartening to see smiling photos of Barack Obama, Aung San Suu Kyi, and Hillary Clinton together.
But when dictatorships are lifted, old unresolved ethnic tensions can reappear. There are many such conflicts in Burma, and recently the worst involves terrible persecution and violence against Muslims, especially the Rohingya people living near the border of Bangladesh. To our horror, certain Buddhist monks and abbots have encouraged the anti- Muslim violence. And others have been afraid to condemn it.
As a concerned response, a few Western teachers and I drafted an open letter to the monks and nuns of Burma and got our friendly world Buddhist leaders to sign on. The letter was published in several of the most widely read Burmese papers. It is a loving and deeply concerned appeal reminding the Burmese Buddhists of their noble dharma heritage and reaffirming the principles of nonviolence, compassion, and mutual respect. Stand up for these truths, we say.
We all need to be reminded of our commit­ment at times, and as friends of the people of Burma we want to support the best and most beautiful of the Burmese Buddhist tradition as they do the hard work to transform their society from half a century of repression to genuine freedom. Wish them well and send your prayers.