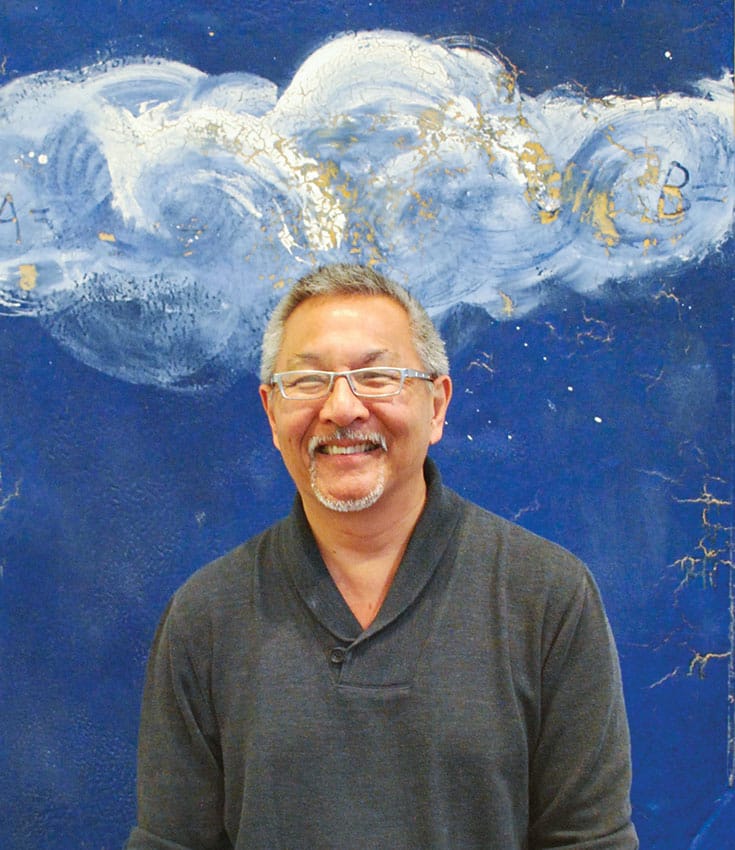 Larry Yang. Photo by Stephen Pickard.
Our congratulations to meditation teacher Larry Yang, who's been named Community Grand Marshal of the 2016 San Francisco Pride Parade. Larry recently told his personal story and answered Lion's Roar's "Meet a Teacher" questionnaire; they follow here so that you can get to know him better.
As immigrant Asian Americans in the McCarthy era, my parents were not able to get housing within the city limits of Philadelphia, so I grew up in the working-class suburb of Levittown. While I sensed early on that I was different from other boys, I didn't have any words that came close to describing "gay" in the late 1950s and early 1960s.
The tensions of "not belonging" culturally because of race and orientation closeted and repressed me until my thirties. After going into recovery from drugs and alcohol—my method of coping with the despair of repression and oppression—I started meditating at the suggestion of my psychotherapist. I became dedicated to dharma practice after finding the only LGBTQ meditation retreat at that time, taught by Arinna Weisman and Eric Kolvig in the 1990s.
I am a Spirit Rock dharma teacher, a core teacher at the East Bay Meditation Center in Oakland, and the founding teacher at the Insight Community of the Desert in Palm Springs. Being a dharma teacher is the most fulfilling, challenging, frustrating, energizing, pleasant, unpleasant, difficult, joyful, and painful activity I have chosen in this lifetime.
What is your practice tradition?
Theravada Vipassana, primarily from Spirit Rock and the Insight Meditation Society.
Favorite meditation practice?
My mindfulness is currently called toward monitoring the needs of my ninety-eight-year-old mother.
What is your next project?
The project closest to my heart is to contribute to the next Spirit Rock/IMS Vipassana Residential Retreat Teacher Training, in order to empower and train greater numbers of teachers of color and LGBTIQ teachers.
Your favorite virtue?
Integrity. Maybe because it's the English translation of my Chinese name, which I hated for a long time due to my own internalized racism and self-hatred.
Your chief characteristic?
I aspire to the aforementioned integrity, but if you're talking about one of the three marks of existence, then definitely dukkha. My gateway into dharma practice was through the door of suffering.
Your principal poison?
Aversion. Of the Buddhist personality types, I am too obsessive-compulsive to be delusional, my greed is selective, but my aversion is universal.
What's the worst job you've ever had?
I was a houseboy for a wealthy family on the Mainline of Philadelphia the summer before I went to Yale.
Name three of your heroes.
My father, Bayard Rustin, African American educator Anna Julia Cooper.
Your favorite musician or group?
I can listen to anything except opera (I guess I just got my gay card revoked for admitting that).
Your favorite current TV show?
Downton Abbey (I just got my gay card returned to me). I am suffering from the attachment arising due to its last season on the air.
What do you want for dinner?
Absolutely anything my Mom cooks.
A motto that represents you?
"One's success as a teacher is measured by how one's students are able to supercede the teacher." —My father
Guilty pleasure?
A large blended-ice spicy-sweet chai latte with whole milk, a shot of espresso, and whipped cream—yum!
Meditation teacher Larry Yang voted San Francisco Pride Parade's Community Grand Marshal