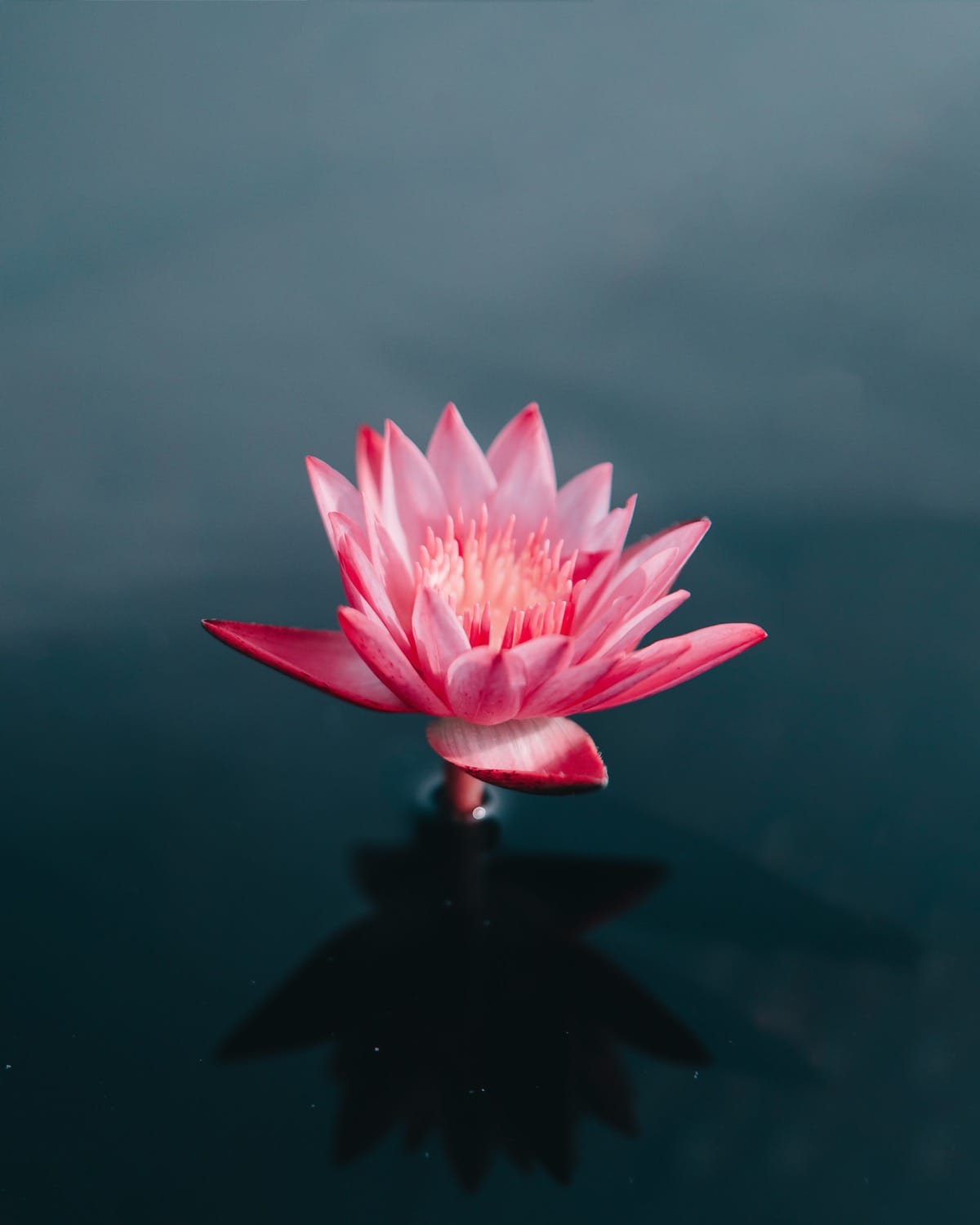 Photo by Ahmed Saffu.
The lotus is one of Buddhism's most recognizable symbols of enlightenment and is important in many Buddhist traditions.
According to legend, everywhere the baby Buddha stepped, a lotus flower bloomed. The famed Lotus Sutra is one of the most important texts of Mahayana Buddhism and is the foundation of the Pure Land schools.
Because the lotus grows in muddy water, it symbolizes the purity of enlightened mind arising amidst the suffering of samsara. It also represents nonattachment, as it is rooted in mud (attachment and desire) but its flowers blossom on long stalks unsullied by the mud below.
The famous Tibetan mantra OM MANI PADME HUM, meaning "OM the Jewel in the Lotus HUM," invokes Chenrezig (Avalokiteshvara), the bodhisattva of compassion. In this case, the lotus represents wisdom and the jewel symbolizes skillful means.
Different-colored lotuses have different meanings. The white lotus represents mental purity and spiritual perfection. The red lotus is the symbol of love and compassion. The blue lotus represents wisdom and intelligence and is always pictured partially opened. A gold lotus represents the achievement of complete enlightenment.
In some Buddhist schools, the flower's stage of growth represents different stages on the path to enlightenment. A closed bud symbolizes the time before enlightenment, while a fully bloomed lotus represents full enlightenment. Sometimes a flower is partly open, with its center hidden, indicating that enlightenment is beyond ordinary sight.
Can you help us at a critical time?

COVID-19 has brought tremendous suffering, uncertainty, fear, and strain to the world.
Our sincere wish is that these Buddhist teachings, guided practices, and stories can be a balm in these difficult times. Over the past month, over 400,000 readers like you have visited our site, reading almost a million pages and streaming over 120,000 hours of video teachings. We want to provide even more Buddhist wisdom but our resources are strained. Can you help us?
No one is free from the pandemic's impact, including Lion's Roar. We rely significantly on advertising and newsstand sales to support our work — both of which have dropped precipitously this year. Can you lend your support to Lion's Roar at this critical time?