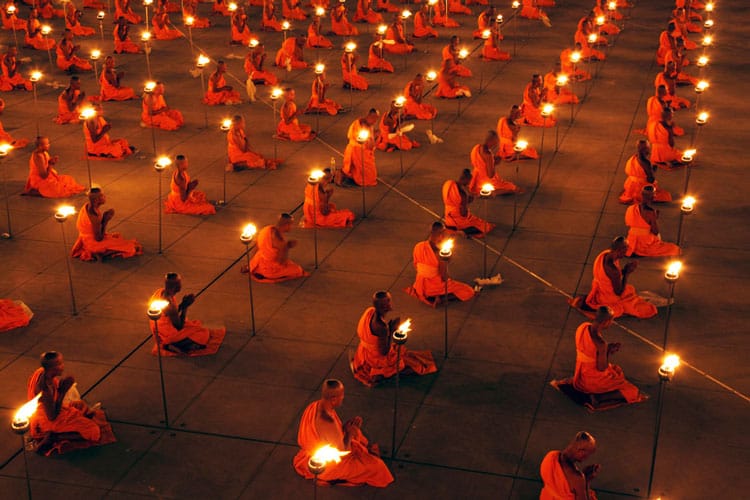 (Photo:
www.foreignpolicy.com
)
You may have seen this photo (or others like it) going around, posted on Facebook, etc, with a note that it depicts 100,000 Burmese monks praying for world peace, or something along those lines. After the earthquake in Nepal, it's now circulating again, described as "100,000 monks in Napal [sic] in prayer after the Nepal earthquake as a necessary gesture of power." So: who's in it?
The photo is from a photoset of what some call a cult, based out of Thailand, whose "mass ceremonies," we are told, "are inspired by the head abbot's fascination with the Muslim hajj gatherings and Nazi parades…" That description and the photoset itself — called "Close Encounters of the Buddhist Kind" — come by way Foreign Policy, which hosts the photoset here. These photos do deserve to be seen — but we thought you might want to know more of the context.
THANK YOU FOR READING LION'S ROAR. CAN WE ASK FOR YOUR HELP?
At Lion's Roar, our mission is to communicate Buddhist wisdom in today's world. The connections we share with you — our readers — are what drive us to fulfill this mission.

Today, we're asking you to make a further connection with Lion's Roar. Can you help us with a donation today?
As an independent nonprofit committed to sharing Buddhist wisdom in all its diversity and breadth, Lion's Roar depends on the support of readers like you. If you have felt the benefit of Buddhist practice and wisdom in your own life, please support our work so that many others can benefit, too.

Please donate today — your support makes all the difference.

Lion's Roar is a registered charity in the US and Canada. All US & Canadian donations are tax deductible to the full extent allowed by law.